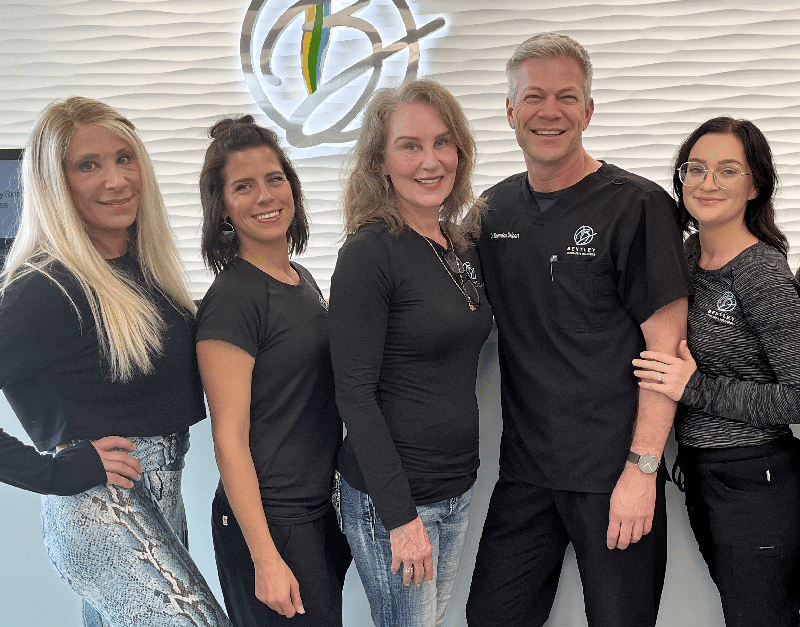 Proudly serving Springfield, MO
Laser, Surgical, & Hair Restoration Services in Springfield, MO
Welcome to Bentley Skincare & Wellness—Springfield's one-stop beauty destination for skincare enthusiasts and beauty buffs throughout the Ozarks and beyond. At Bentley Skincare & Wellness, we bring decades of experience to bear in every laser treatment, surgical procedure, and wellness program we offer. Our resident physicians administer every treatment—an unheard of level of care and expertise throughout the cosmetic and aesthetic industries.
During your consultation, we'll take the time to learn all about you—your life, your reservations, your concerns, and what you need to feel and look like the best version of yourself. Before coming in to see us, we thought you might like to know a little more about who we are so that you know you're in the most qualified hands in the region.
To learn more about our credentials, or to schedule your consultation today, contact us or call (417) 881-7546. We can't wait to help you find and correct whatever's holding you back.
Dr. Brendon Delport, D.O.
Dr. Delport was born in South Africa and moved to the United States when he was 8 years old. After graduating from Evangel University in Springfield, MO, he attended medical school at The Kansas City University of Medicine and Biosciences.
Following his internship at Forest Park Hospital in St. Louis, Dr. Delport completed his residency training in ophthalmology (eye surgery) through the Henry Ford Hospital and Health System in Detroit, MI. He remained in Detroit to complete additional fellowship training in oculoplastic and reconstructive surgery before returning to Springfield, where he has been in practice for the past 15 years. Dr. Delport is the only fellowship trained Oculoplastic Surgeon in the Springfield area helping people to see better, look better, and feel better with Bentley Skincare & Wellness.
Clementine Bentley, M.Ed.
Owner / Licensed Esthetician & Laser Technician
Clementine was born and raised in the Kansas City area where she worked as an Emergency Medical Technician prior to graduating with honors from the School of Biological Sciences at UMKC. She has worked as a veterinary assistant at numerous veterinary clinics and teaching hospitals, and as a research assistant at the Uniformed Services University of the Health Sciences in Bethesda, MD, before becoming a licensed esthetician.
In her spare time, Clementine enjoys training service dogs and is a C.L.A.S.S. evaluator through the Association of Professional Dog Trainers. She has obtained a Master's Degree in Education, Integrative Learning at Drury University. Her eye for aesthetics is displayed by the numerous murals she has painted in the Springfield area.
Clementine brings her breadth of knowledge and experience to all the treatments offered at Bentley Skincare & Wellness.
Meet Your Beauty Professionals at Bentley Skincare & Wellness Today
From inner health to outer beauty, lifestyle changes to hormone replacement therapy, Bentley Skincare & Wellness offers what you need to feel, look, and live like the best version of yourself. Don't let a cosmetic issue, hair loss, or weight gain compromise your ability to live life to its fullest. At Bentley Skincare & Wellness, there's a treatment option for almost anything you'd like to live with or without.
During your consultation at Bentley Skincare & Wellness, we'll discuss your life, confidence, and appearance at length so that we can better match you with a treatment. We only ever recommend surgical interventions when they're absolutely necessary or when all other non- and minimally-invasive options have fallen short of the results you want.
With care, with compassion, with open ears and open hearts, we're here in Springfield, MO, to serve you. Let us know how we can help by contacting us or scheduling your consultation today.