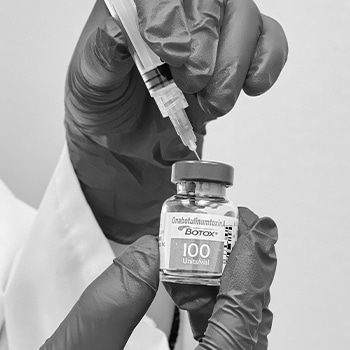 You've heard the name & may even know how it works, but are you ready to try Botox® for yourself?
Masterful Botox Injections in Springfield, MO
There's hardly an adult alive that hasn't heard the household name Botox. But despite the global popularity of this leading injectable, you may not have considered using it yourself. For preventive maintenance, a quick touch-up, or as part of your tried-and-true beauty routine, Botox is still the king. Schedule your first or fiftieth appointment at Bentley Skincare & Wellness today.
How Botox Works
As many of us know, Botox stands for botulinum toxin—but you don't become a household name by being just a toxin. As a neurotoxin, Botox lightly paralyzes the facial muscles responsible for the extreme contractions that cause or worsen fine lines and wrinkles. When stunned, these facial muscles don't overreact, limiting the creation or deepening of common facial imperfections.
Lately, Botox has become part of regular beauty routines for patients in their 20s and 30s. Rather than simply correcting or limiting wrinkles, early and regular usage can actually prevent wrinkle development or delay it by a factor of decades.
More interesting still, regular Botox usage can compound the ultimate benefits. By coming in for frequent Botox injections, facial muscles learn to underreact to facial contractions, further limiting the development or worsening of common wrinkles.
For patients of all ages, newbies and veterans alike, Botox is still the #1 cosmetic injectable on the planet Earth. Schedule your next Botox appointment at Bentley Skincare & Wellness today and experience what everyone's already talking about for yourself.
Botox FAQs
When used in cosmetic doses and for cosmetic purposes, Botox is generally harmless and safe for use. Trained professionals safely administer Botox to 7 million or more Americans each year. Frankly put, you don't become a household name—adored by people of all ages—by being dangerous.
Botox benefits can last for 3–6 months on average. Most patients will see the best results after the second and third injections. Botox works best over several appointments and can even train the muscles responsible for wrinkles to relax on their own over time. For millions of patients each year, Botox is part of their regular beauty and skincare routines.
No, most Botox injections are entirely comfortable. Depending on your sensitivity to needles, you may find the experience more or less tolerable. A slight pinch at the injection site should be expected, but beyond that, Botox appointments are comfortable, speedy, and over in no time flat.
Try Botox For Yourself at Bentley Skincare & Wellness Today
Not every famous movie, book, or cosmetic injectable deserves your utmost attention. Some creations fizzle out of popular culture despite ravenous enthusiasm and skyrocketing interest. Botox, meanwhile, has stood the test of time precisely because it works as well as advertised. With more people using the popular injectable than ever before, it may be time to finally see what all the fuss is about for yourself.
At Bentley Skincare in Springfield, MO, we offer the best, brightest, and latest injectable treatments, such as Dysport and Jeuveau, in addition to our world-famous Botox. Schedule your appointment today and find the right injectable treatment for you.