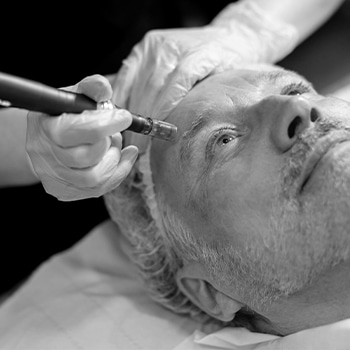 Maximize collagen production to heal new & old scars, defeat fine lines & wrinkles, & boost your radiance.
Microneedling, RF Microneedling, & More in Springfield, MO
Once upon a time, your skin had everything it needed to heal like new at the drop of a hat. But as we age, our skin slows its natural healing response. Diminished collagen production simply can't keep up with new damage, old acne scars, or deepening fine lines and wrinkles. Thankfully, all your skin needs is a little inspiration from Bentley Skincare & Wellness.
How Microneedling Works
Microneedling comes in several shapes and sizes. As one of the most popular, minimally-invasive procedures on the market today, microneedling has grown to include RF microneedling, microchanneling, and PRP varieties.
Microneedling works by creating extremely fine, almost imperceptible channels in the skin. Your skin perceives these channels as damage and responds by flooding the area with collagen and elastin—two structural proteins responsible for skin health and bounce. RF microneedling introduces heat in the form of radiofrequency waves (RF) to inspire the production of even more collagen in the treatment area.
Microchanneling uses the same principles but even finer needles (similar in width to a human hair). By making more channels in the skin, collagen production is boosted even further. Serums can be added to the treatment and pressed into the skin for deeper rejuvenation.
Finally, PRP (protein-rich plasma) is a regenerative healing substance created with your own biological material. By refining protein-rich plasma from your own bloodstream, we create a healing serum that can then be applied before the microneedling or microchanneling procedures.
When you schedule your consultation with Bentley Skincare & Wellness, we'll speak with you at length about our microneedling varieties to determine the approach that works best for you. Boost collagen and turn back the clock on stubborn acne scars, wrinkles, and so much more.
Microneedling FAQs
As a form of collagen induction therapy, microneedling and its varieties constitute a comprehensive approach to skin rejuvenation. Just one treatment can create drastic results across an entire area, improving or eliminating common skin concerns such as:
Wrinkles
Fine lines
Acne scars
Stretch marks
Uneven texture
Enlarged pores
Sun damage
Hyperpigmentation
Depending on which microneedling treatment option works best for you, and which serums or add-ons you choose, results may vary from patient to patient. In general, results can last for several months to nearly half a year after the final treatment. The resulting increase in collagen and elastin production can even lessen the intensity and frequency of acne or rosacea outbreaks, and some blemishes and acne scars may permanently vanish.
No, most patients find the procedure entirely comfortable. Some patients may even doze off on the treatment table. Depending on your sensitivity to needles, a topical anesthetic may be applied for the utmost comfort.
Inspire Your Skin at Bentley Skincare & Wellness Today
Your remarkable skin still has everything it needs to heal. But these days, it could use a little encouragement to go above and beyond for the best results. Microneedling, RF microneedling, microchanneling, and PRP supply your skin with the elastin and collagen it needs to heal new and old scars while correcting stubborn fine lines, wrinkles, blemishes, and so much more.
To learn which approach is right for you, schedule your consultation with Bentley Skincare & Wellness in Springfield, MO, today. We'll take the time to speak with you about your desires and expectations so that we can customize a treatment plan to meet your needs.