Dead skin cells, oils, and toxins compromise the quality & health of emerging skin—but they don't have to.
Customizable Chemical Peels in Springfield, MO
We trust our skin to grow, shed, and grow back stronger. But sometimes, our faces could use a little help shedding dead cells, oils, and toxins that prevent healthier regrowth. At Bentley Skincare & Wellness in Springfield, MO, our range of customizable chemical peels can give your skin the clean slate it needs to grow back brighter. Here's how.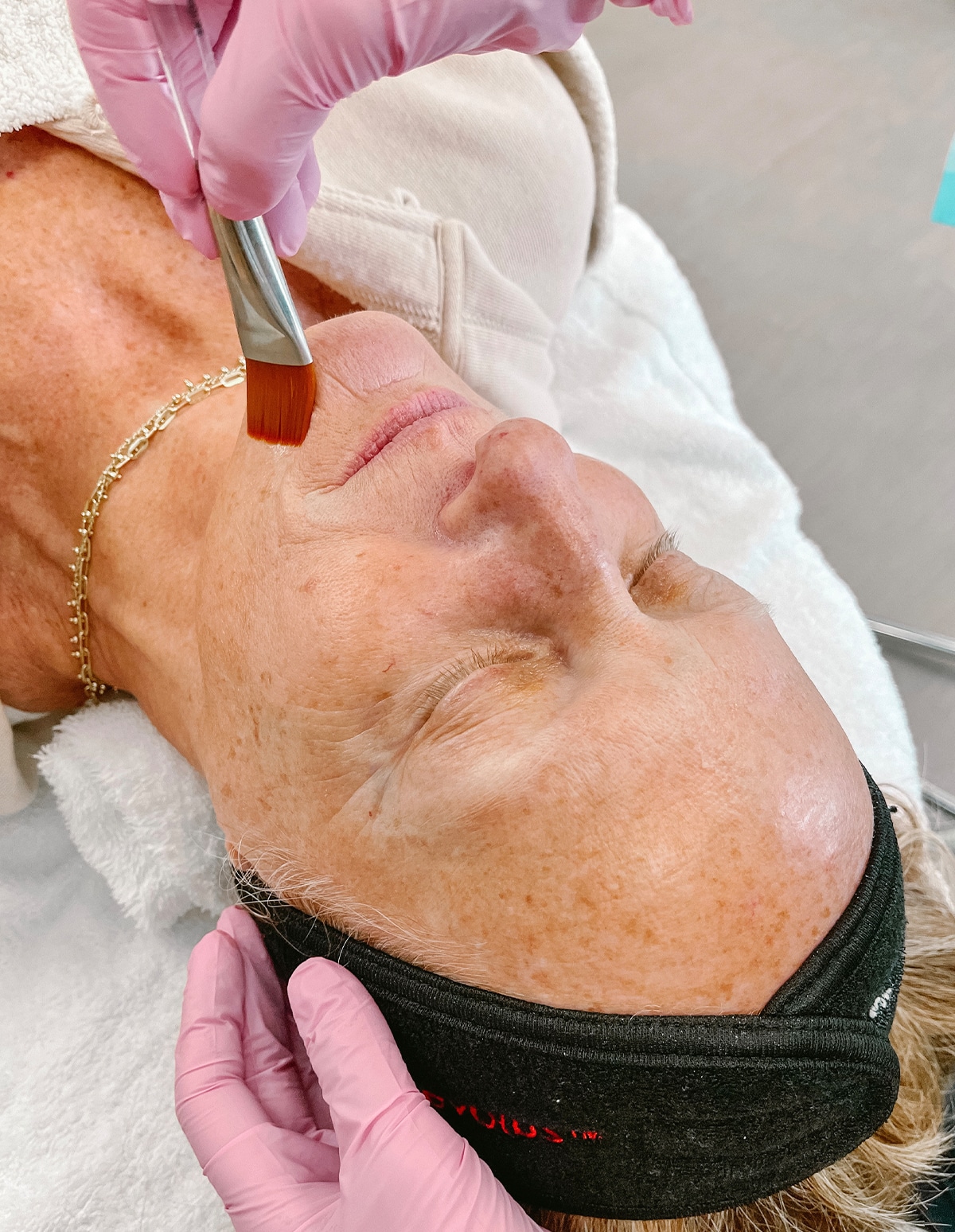 How Chemical Peels Work
Our skin grows, lives, and sheds on a roughly 27-day cycle. But depending on genetics, environmental factors, lifestyle choices, and skin care routines, new skin doesn't always have the easiest time growing back.
Though you can't always see it, a microscopic layer of dead skin cells clings to your face. As they die, cells release oils and toxins. New skin has to press its way up through this layer of contaminants to emerge, compromising its quality, texture, and tone.
Chemical peels work by washing away this toxic layer and (in medium and deep peels) penetrating lower skin layers to promote collagen production. In the days and weeks following a chemical peel treatment, old and dying skin should peel away effortlessly to reveal the next generation of rejuvenated skin beneath!
Chemical Peel Results
Chemical peels can provide comprehensive results in quick, comfortable appointments. Among the many benefits you can expect from your chemical peel, you'll find that they:
Chemical peels come in three primary varieties: light, medium, and deep. At Bentley Skincare & Wellness, we'll speak with you at length about your medical history and experience with chemical peels to recommend the strength that suits you best.
Chemical Peel FAQs
Chemical peels are safe for suitable candidates without certain skin-related issues in their medical histories. Chemical peels promote healthier skin through deep cleaning, hydrating, and exfoliation. We'll discuss your individual candidacy during your consultation at Bentley Skincare & Wellness.
Chemical peels come in several strengths and solutions to meet your individual needs. The benefits of your chemical peel will depend on the intensity. Milder chemical peels can last up to a month. Stronger peels result in visible improvements for an average of 2 months. For the best benefits, a number of chemical peels may be required to maximize results, but you'll see and feel a difference after your first appointment.
The oils, toxins, and dead skin cells that contribute to an aging appearance can also throw fuel on the fire for strong, frequent, and painful acne outbreaks. By clearing away the fuel that acne outbreaks rely on, you may see a reduction in the frequency and intensity of acne outbreaks. We'll speak with you about your unique acne history before recommending chemical peels.
Give Your Skin Room To Breath & Grow
Chemical peels are a time-tested method for clearing old skin away so that newer, healthier skin has room to flex its way to the forefront. During your consultation at Bentley Skincare & Wellness, we'll discuss your goals, expectations, and experience with chemical peels so that we can dial in our treatment options to meet your individual needs.
Reduce fine lines and wrinkles, improve skin texture and tone, and find a way forward in the fight against stubborn hyperpigmentation, old scars, and acne with a chemical peel from Bentley Skincare & Wellness today. At Bentley, you can find what you need to look good and feel good today.