Feel more like yourself & improve your overall well-being with IV therapy
IV Therapy in Springfield, MO
When your energy levels feel like they're lagging, your mood seems to be on a rollercoaster, or you've been more susceptible to illness, it's likely your body is trying to tell you something—feed me vitamins and rehydrate me. Drinking juice or eating a piece of fruit aren't the only ways to boost your immune system: introducing IV therapy. With IV therapy, you have easy access to a plethora of vitamins and minerals that will be quickly absorbed and used to your body's maximum potential.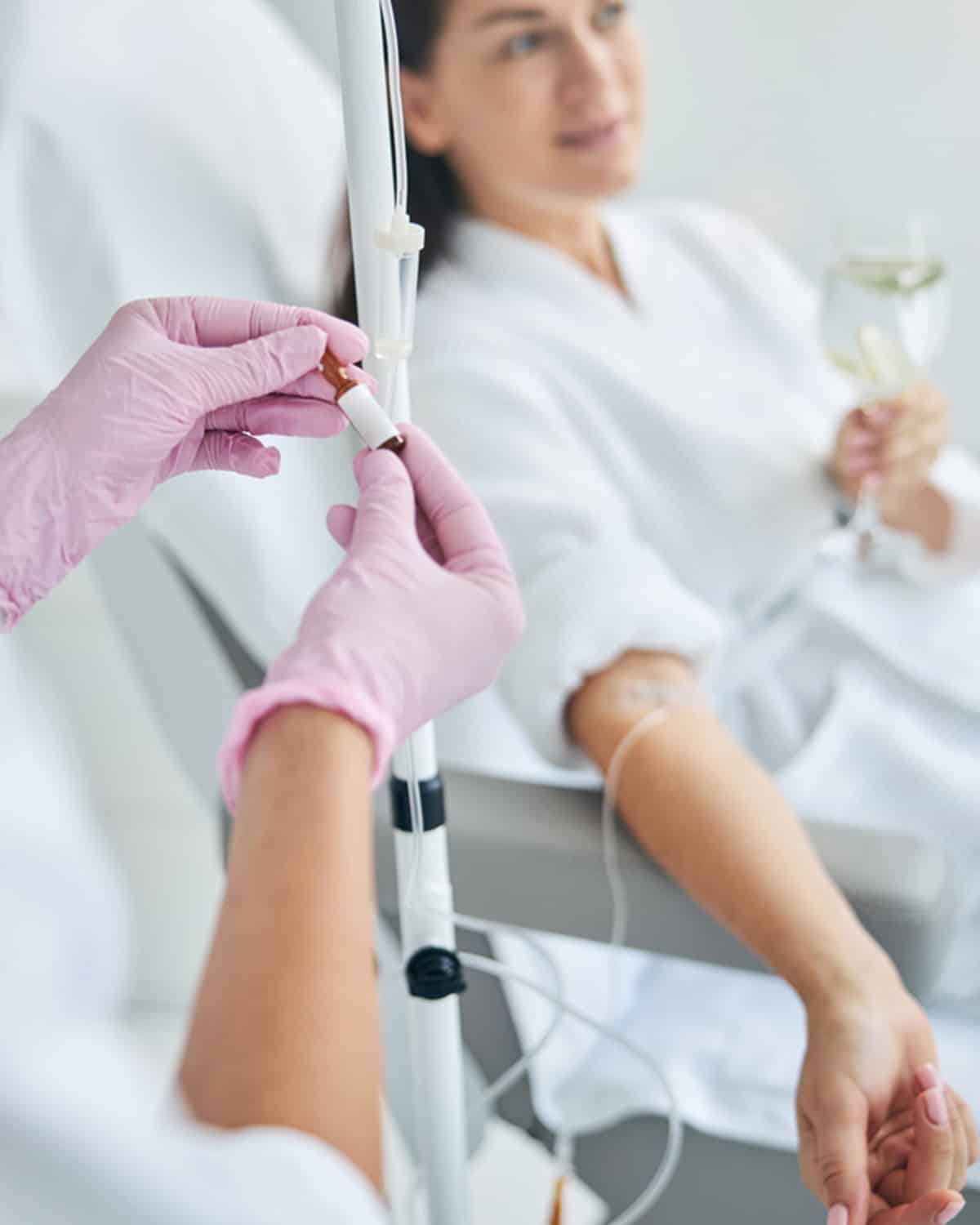 What is IV Therapy?
At Bentley Skincare & Wellness, we're dedicated to keeping you healthy inside and out—starting with IV therapy (intravenous therapy). Designed to boost your immune system and improve your overall vitality, IV therapy is an excellent method to increase your wellness and prevent unwanted aging effects. You don't have to be an athlete or suffer from severe illness to receive a dose of hydration and wellness—IV therapy is designed for everyone. Each IV treatment is customized to your specific needs, packed full of natural vitamins and minerals, and takes anywhere from 30 to 60 minutes to complete.
Whether you're struggling with migraines, anxiety, insomnia, blotchy complexion, or a cruel hangover, there's a drip for that. IV drips are administered just like a saline drip at the hospital—a small needle attached to a tube is inserted into your vein while a cocktail of vitamins travels through the tube into your bloodstream. The best part of this hour-long treatment? You simply need to sit back and relax. Patients are able to read, listen to music, and watch television during their treatment—making it a true self-care experience.
If you're looking to feel healthier and maintain higher energy levels, look no further than IV therapy. At Bentley Skincare & Wellness, you're immersed in a calming environment, equipped with professionals ready to walk you through each step of this simple, yet effective, treatment. Boost your overall health and wellness while giving your skin a healthy glow when you choose IV therapy from Bentley Skincare & Wellness.
Frequently Asked Questions
There are a large selection of IV therapy treatments to choose from. Patients can choose an IV cocktail targeted for specific issues such as hydration, recovery, immune support, and many more, or they can create their own cocktail based on their needs and symptoms.
At Bentley Skincare & Wellness, we offer additional boosters such as antioxidants to assist with your immune system and anti-aging needs.
Results will vary depending on the patient's overall health and the specific type of IV cocktail administered. But, you can expect to see results last anywhere from one to three weeks.
For those that regularly receive intravenous therapy, they'll notice longer lasting results than those who only receive the treatment every now and then. This is because their bodies no longer have to make up for vitamin deficiencies and can enjoy the feeling of increased vitality.
The frequency of treatment is completely up to you. Most IV cocktails consist of vitamins and minerals that are water-based, and any excess is safely flushed from your body, so there isn't a waiting period between infusions. We recommend coming to see us once a month for a customized IV infusion. From here we can discuss results you're noticing and determine whether you should continue treatment in shorter or longer intervals.
Discover IV Infusion Therapy at Bentley Skincare & Wellness
At Bentley Skincare & Wellness, we believe you should live your best day, every day—and our IV infusions can help. Packed full of essential fluids, electrolytes, vitamins, and antioxidants, these IV treatments promote whole-body health, sure to help jumpstart your hydration and motivation. If you're ready to start your wellness journey today, contact us to schedule a consultation.