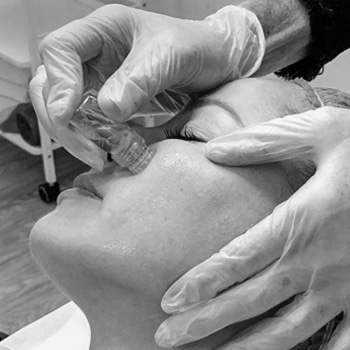 Choose a purpose-made serum for deep skin infusion & supercharge collagen production.
Microchanneling with SeruGlow MD in Springfield, MO
An extensive at-home skincare routine is the cornerstone of beauty, but topical ointments, serums, and solutions can only penetrate so far, resulting in superficial improvements. At Bentley Skincare in Springfield, MO, we combine scientifically-engineered skincare serums with a microchanneling procedure for deep-skin penetration and deep-skin results.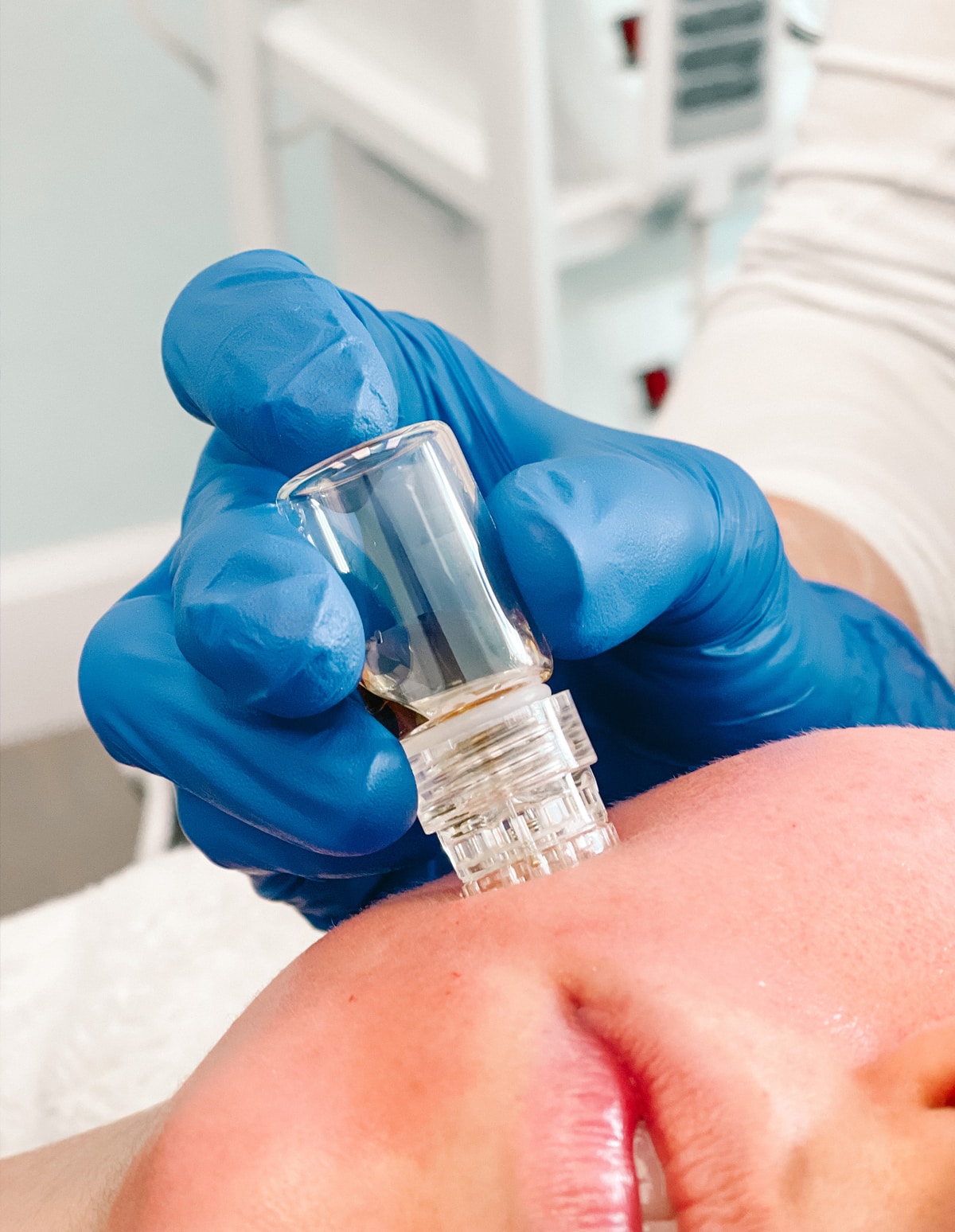 How Microchanneling with SeruGlow MD Works
Similar to the already popular microneedling procedure, microchanneling relies on a special applicator lined with gold–plated surgical steel microneedles. These needles are used to create extremely fine channels in your skin (microchannels), stimulating your body's natural healing response in the process. When your skin senses this false "damage," it floods the area with collagen and elastin—two structural proteins responsible for skin health and tightness.
But before these microchannels have a chance to heal, a powerful serum is applied to the area for deeper penetration and even deeper benefits. By accessing the lower layers of your skin, these serums provide a more comprehensive effect, tailored to your specific desires.
SeruGlow MD customized serums come in several varieties, depending on the issues you'd like to address. When you arrive at Bentley Skincare for your Microchanneling procedure, you'll choose from:
SeruGlow HA Factor – Packed with hyaluronic acid, this serum supports optimal skin hydration.
SeruGlow Age Complex Plus – Engineered to reduce numerous common signs of aging, such as fine lines & wrinkles.
SeruGlow Hydra-Vit Complex – Over 40 minerals & vitamins encourage hydration & maximize skin health.
SeruGlow Bright Complex – Ideal for treating dark spots and uneven skin tone, this serum improves and unifies your complexion.
Microchanneling with SeruGlow MD FAQs
Results vary from patient to patient, but with the right at-home skincare routine and an eye toward preserving results, you can expect to enjoy your microchanneling benefits for two years or more.
The localized flood of collagen caused by the simulated skin damage persists long after the treatment—tightening skin, healing new and old scars, and reducing fine lines and wrinkles for many months to come.
While both procedures rely on the same, time-tested medical principle, the two treatment options differ in many other ways. Microneedling typically probes deeper into the skin, causing slightly more discomfort. Microchanneling is minimally invasive and designed to permit deeper penetration of skin-boosting serums. Both are forms of collagen induction therapy, but the experience, benefits, and duration of their results differ.
If you're unsure which of these two procedures is right for you, contact the professionals at Bentley Skincare today or call us at (417) 881-7546.
For the best results, a maximum of one to two microchanneling treatments are generally recommended. For corrective skincare purposes (such as serious acne scarring, burns, or other forms of facial trauma) the professionals at Bentley Skincare may recommend upwards of four treatment sessions or more.
Inspire Deeper Healing, Wellness, & Beauty at Bentley Skincare
Few skincare treatments can replace a thorough, at-home skincare routine. But if you've been disciplined each day without seeing the results you want, microchanneling with SeruGlow MD can finally move the needle. By allowing SeruGlow MD's powerful serums to penetrate deeper, you can see real, lasting results for years to come. A boost in collagen and elastin production certainly don't hurt either!
During your consultation at Bentley Skincare, we'll speak with you about your goals and current at-home skincare routine. Afterwards, we'll recommend a SeruGlow MD serum to meet your needs and discuss helpful tips and tricks for maximizing and preserving your benefits. Schedule your appointment today and look forward to looking brighter tomorrow.