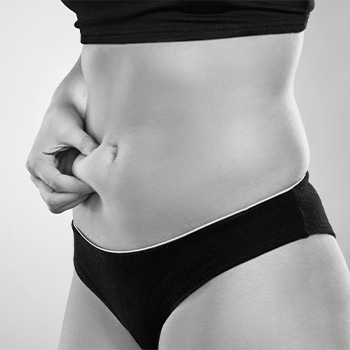 For Plumper Lips & Fewer Wrinkles.
A Natural Filler for Natural Results in Springfield, MO
Injectable treatments receive a lot of well-deserved attention. For adding volume, dermal fillers are practically unrivaled throughout the cosmetic industry today. But what if you could borrow a little of your own natural filler to plump your lips, fill out your cheeks, or reduce wrinkles instead? At Bentley Skincare, we do just that. With a liposuction and fat transfer procedure, you can remove fat where you don't want it to add shape where you do. It's as simple as that!
How Liposuction & Fat Transfer Works
True to its name, liposuction and fat transfer begins with a minor fat removal procedure from a donor site (usually your abdomen or thighs). But unlike traditional liposuction, a smaller, thinner cannula is used to remove a small amount of fatty tissue without severe bruising, large incisions, or an increased risk of scarring. Once we have a sample of your natural filler, the real treatment begins.
Next, the donor fat is purified and processed to activate dormant growth factors and adult stem cells. These latent, regenerative substances also provide a boost to skin health and tightness during reinjection. Once we have the injectable filler ready, we're able to add volume nearly anywhere. Patients use fat transfer and injection to combat under-eye bags, add shape and volume to lips, or smooth out wrinkles wherever they're found. If a dermal filler can do it, so can your own natural filler.
Best of all, your body is already programmed to support subcutaneous fatty tissue, giving fat transfer and injection a leg up on even the most popular dermal fillers. For longer results and a completely organic approach to adding volume, choose liposuction and fat transfer at Bentley Skincare today!
Liposuction & Fat Transfer FAQs
Fat transfer results absolutely last longer on average than other popular injectables. While Botox wears off eventually, fat that's been deposited in a targeted area is generally more resilient. Additionally, synthetic hyaluronic acid shifts and depletes over time.
Fat transfer and injection can create results that last a lifetime by using your own tissue to add volume where you need it most. Once injected, your body supports this tissue just as it would if it occurred normally in the same area.
Most patients would describe the liposuction and fat transfer process as mostly comfortable. The liposuction portion of this popular treatment generally relies on a very fine cannula, more comparable in diameter to a needle than a traditional vacuum tube. Localized anesthesia can make this process even more comfortable.
Afterwards, the reinjection phase of the treatment only requires a simple needle, just as you might expect from a dermal filler or Botox procedure. The overwhelming majority of patients find the experience completely comfortable.
Technically speaking, liposuction for the purpose of fat transfer is not considered a weight loss procedure. You may notice a minor reduction in fat from the donor area, but it's not in any way comparable to traditional liposuction procedures. Instead, we're borrowing from one area to enhance another, resulting in more drastic changes at the site of reinjection than in the donor site.
Use Your Own Tissue to Enhance Your Facial Features
Synthetic hyaluronic acid and popular neurotoxins can get you far in life, but neither option can go with you for very long. While dermal fillers and Botox are sensationally effective and in-demand, neither option lasts quite as long as a liposuction and fat transfer procedure from Bentley Skin Care.
Your body has been designed by nature to support and maintain subcutaneous fat. When taken from one place and added to another, your own natural fat represents the most effective filler on the market! Learn more about this leading-edge procedure by contacting Bentley Skin Care today!