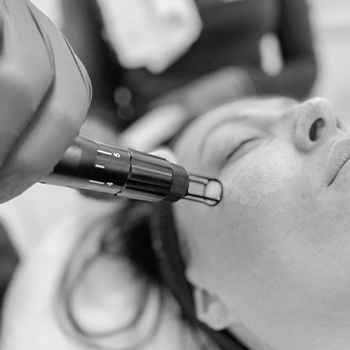 Ablative & non-ablative laser skin resurfacing reduces wrinkles & tightens skin for 21st-century results.
Laser Skin Resurfacing in Springfield, MO
Your skin has been designed by nature to receive information from light. Light is energy and energy is heat—a principle that gives laser skin resurfacing an advantage like no other. By adjusting a focused beam just right, Bentley Skincare & Wellness in Springfield, MO, can reverse common signs of aging and skin damage in comfort. Here's how.
How Laser Skin Resurfacing Works
CO2 Laser Skin Resurfacing
To start, CO2 laser skin resurfacing treatments remove the outermost layer of dead or decaying skin. This process gives newer skin room to grow while preventing a gray or lusterless complexion.
Oils, toxins, and dead cells are removed so they don't compromise the quality or texture of emerging skin cells. Heat energy then penetrates the skin to promote the development of collagen—a vital structural protein responsible for skin health and healing.
Erbium YAG Laser Skin Resurfacing
Like the CO2 laser, Erbium YAG lasers penetrate the outermost layer of skin to warm lower tissues. Once your skin senses heat at this level, it responds by supercharging a localized production of collagen.
Collagen heals and tightens the overlying skin, repairing new and old damage as it does so. Erbium YAG lasers may be more precise, if less aggressive, limiting downtime with similar results.
To discover which of these approaches works best for you, contact Bentley Skincare & Wellness in Springfield, MO today. Reduce fine lines and wrinkles, tighten skin, and make more room for newer skin to grow!
Laser Skin Resurfacing FAQs
Most laser skin resurfacing patients wouldn't describe the treatment as painful. If anything, some patients liken the sensation to mild irritation or a rubber band snapping on their skin. Because skin resurfacing lasers are powerful enough to exfoliate with light alone, you may experience some minimal discomfort. Procedures range from 30 to 90 minutes, but a topical solution can be applied to maximize your comfort throughout.
Depending on your goals and expectations, the professionals at Bentley Skincare & Wellness may recommend anywhere from 3–6 treatments spread 4–6 weeks apart. After the final treatment, touch-up appointments may be necessary to preserve the best results which may last half a year to a whole year.
By encouraging collagen remodeling in the targeted area, both the CO2 laser and Erbium YAG laser can achieve mild to moderate scar revision. As we age, our natural production of collagen slows. New skin damage may not heal completely for a lack of healing agents. Laser skin resurfacing boosts collagen in a targeted area, directing your skin's healing efforts where and how you need them most.
Eliminate Wrinkles & Boost Skin Bounce at Bentley Skincare & Wellness
Your skin is a living, breathing suit of armor, designed by nature to take influence and action from light. By tuning our CO2 and Erbium YAG lasers to achieve your desired results, we can correct a range of skin conditions and concerns in just a few comfortable appointments. Reduce the appearance or impact of scars while giving your skin the inspiration it needs to repair itself with laser skin resurfacing at Bentley Skincare & Wellness.
To discover a laser skin resurfacing approach to suit your needs, contact us today. We'll speak with you at length about your individual concerns so that we can devise a customized approach for making your skincare dreams come true.