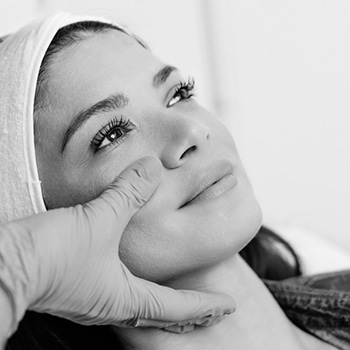 Obtain plump, volumized, kissable lips with a lip lift from Bentley Skincare & Wellness.
Lip Lift Procedure in Springfield, MO
Lip fillers, plumping products, and overlining are some of the most common ways to make your lips look more youthful, but those aren't the only options. A lip lift procedure offers you a permanent solution to flat, skinny lips without the hassle of multiple injections that other alternative solutions require. Instead, the lip lift procedure performed at Bentley Skincare & Wellness, focuses on the shape of your lips—not just the fullness—providing lasting results for women of all ages.
What is a Lip Lift?
A lip lift is a surgical procedure that elevates the upper lip by removing skin between the nose and the border of the cupid's bow. By shortening the distance between these two areas (an area known as the philtrum), the lip begins to roll outward, creating a more volumized look. This permanent, customizable procedure offers patients a minimally invasive way to create a plump pout for years to come.
As we get older, the upper lip tends to stretch and lengthen with gravity, resulting in the red part of your lip to roll inward. This action can cause your upper lip to look obscenely thin and the mouth to appear older. Depending on which part of the lips need to be lifted, an incision can be made either under the nose, at the corners of your mouth, or just above the central part of the lip. Once a small strip of skin has been removed, the area will be carefully closed with sutures—creating the best cosmetic result possible.
For those looking to impress with lips made for a cosmetic campaign, a lip lift will surely provide the lasting results you're looking for. At Bentley Skincare & Wellness, we understand wanting to add a bit of "model behavior" to your stunning smile. This is why we offer the lip lift procedure to add height, as well as volume, to your lips, leaving you feeling and looking more confident.
Frequently Asked Questions
The results of a lip lift are permanent, so they last a lifetime. However, it's natural for your lips and face to mature as you age, so minimal changes should be expected over a longer period of time.
The general healing period is around two to three weeks, with results settling in around two or three months later. For the first couple of weeks, activity will be restricted and slowly re-introduced. Your doctor will provide you with additional limitations and cleaning instructions of the incisions during your post-surgery conversation.
Yes, a lip lift is available for anyone over the age of 18 to receive. However, a lip lift is most popular among the elderly who have found the space between their nose and upper lip have lengthened, as well as the younger generation who find fillers to look unnaturally plump.
Full Lips for a Full Life
The lip lift procedure at Bentley Skincare & Wellness is designed to elegantly accentuate the structure and shape of your lips without compromising your other facial features. Rather than provide fullness to every area of the lip, our professionals take the time to examine the structure of your mouth, hear your concerns and insecurities, and construct a plan to provide you with the results you've been dreaming of. Kiss a little bit harder, smile a little bit brighter, and apply your lipstick with boss babe energy when you choose a lip lift from Bentley Skincare & Wellness.